Sometimes you would love the comfort of a pot pie, but don't have the time to make one. Chicken Pot Pie Soup has that classic flavor but is simple to whip up on a busy school night.
To begin, roll out a sheet of refrigerator pie crust onto a baking sheet. (I had some extra homemade from a pie I had just made.)
Over the pie dough, sprinkle 1/8 teaspoon each of sage, thyme and black pepper. Score the dough into rectangles with a butter knife and bake at 400 for 8-10 minutes or until lightly golden.
Meanwhile, dice 3 boneless, skinless chicken breasts into 1 inch pieces.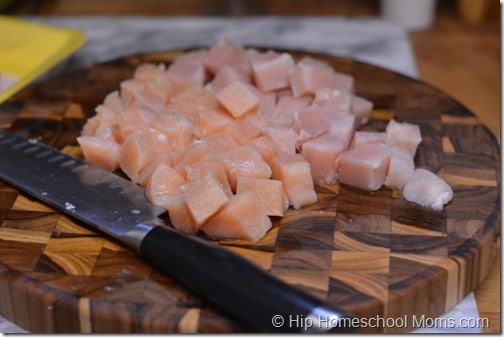 In a Dutch oven, melt a tablespoon each of butter and oil.
Salt & pepper the chicken, and toss it into the pot. Let it cook over medium heat for a few minutes, until opaque.
While the chicken is cooking, dice 3 good sized potatoes into 1/2 in pieces. Set aside.
Dice a small onion and 2 stalks of celery.
Scoop the chicken out into a bowl.
Toss in the celery and onion and cook them in the liquid in the pot for about 2 minutes.
Stir in 1/3 cup of flour.
Pour in 4 cups chicken broth and 1 cup of half & half (or milk for a lighter version.)
Stir in the potatoes, along with 2 cups of frozen mixed vegetables.
Add in a half teaspoon each of thyme, rosemary, sage, salt & pepper. Bring it to a boil, reduce the heat and cook on medium heat until the vegetables are just done – about 10 minutes.
Serve the Chicken Pot Pie Soup with the pie crust crumbled over the top. Enjoy!